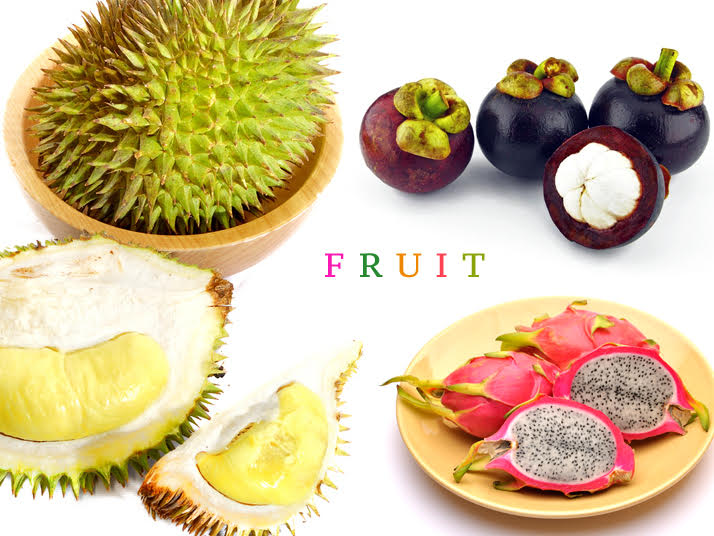 Fruits can be loaded with vitamins and anti-oxidants, and if you haven't, you might want to think about venturing out of your typical buy of apples and oranges. There are so many fruits, once thought to be quite the exotic finds on the mainland, that are now becoming very commonplace. Having problems finding these items in your local markets? Asian supermarkets with produce will be your next best bet! And if you are near a Chinatown, then you will definitely have more luck finding some of these items. For those who plan on taking a trip to Hawaii, be sure to check out the farmer's markets or road stands there for some of these fruits that are grown fresh on its islands.
Durian
Dubbed with the nickname, The King of Fruits, there are some people who cannot bear the smell or taste of this filling fruit (Andrew Zimmern included). Those who can find it to be quite the delightful treat and describe it as a sweet custard.
Dragon Eyes AKA Longan
Ever had a lychee before? Think of this as its older and more sophisticated sibling. The sweet flesh is very tender and light. It is very easy to eat a whole bowl of these.
Dragon Fruit
Incredibly beautiful, the outside of this fruit is a bright pink, while the inside flesh is either white or purplish-red and dotted with black seeds. It is a very hydrating fruit and full of water content, making it quite refreshing.
Sapote
Sapote is an interesting fruit because it feels too meaty to be a fruit in some ways. It is extremely filling and has a dense texture to it that is similar to a baked custard dessert.
Jackfruit
For those who love candy, this is a great fruit for you to try. It tastes like the produce form of bubblegum. Just handle with care if taking the flesh out yourself, as there is a sticky substance when cutting into it that can really cling to your fingers and hands. Wear gloves!
Mangosteen
These little beauties have a unique flavor that is hard to describe. If you were to ever try a candy that was flavored as 'tropical,' this would be it. It has a slightly crunchy texture that is very enjoyable.