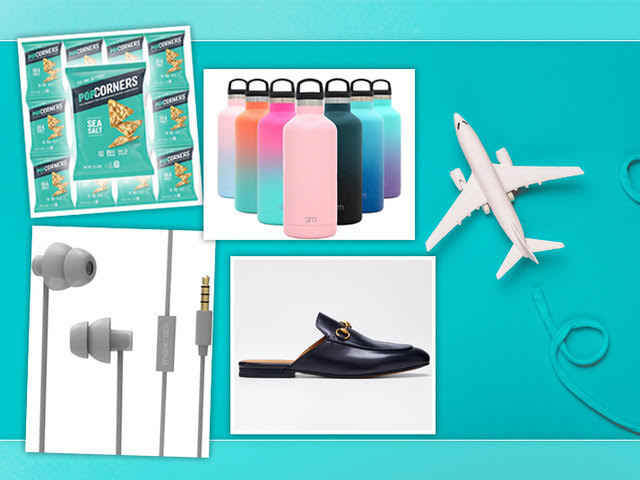 Planning an out-of-town trip soon that will have you flying in the friendly skies? Then be sure to check out these eight tips to make your trip more enjoyable.
1.
Hydrate
Flying can leave you dehydrated, which not only means dry skin and chapped lips, but you might even feel fatigued or dizzy. Bring a big bottle of water with you onto the plane and drink it throughout the flight, even if it might make you have to pee a few times. You can purchase a bottle after going through security or bring an empty, reusable bottle with you and fill it up at a water station at the airport, which many have now.
Simple Modern 32 Oz Ascent Water Bottle, $21.99
2.
Earphones/Headphones
Plan on blocking out the rest of the plane by catching up on the latest movie releases? Be sure to bring a pair with you with the right jack. For example, newer earphones that are compatible with the latest iPhones can't be plugged into planes, so you're stuck using the free earphones that the airline provides, which aren't that comfortable.
MAXROCK Earphones, $11.99
3.
Cozy and Comfortable
We are obsessed with large shawls and scarves when traveling. Tuck it into your carry-on so that you can use them as a light blanket if you get cold or roll them up to use as a pillow or as neck support when you are in need of a nap.
Jeelow Winter Wrap, $17.99
4.
Slip On, Slip Off
Get through security fast with shoes you can easily take on and off. With flat mules like these, you will love being able to slip them off during your flight if you feel your feet swelling from staying stationary so long.
Gucci Princetown Mules, $695
5.
Bring Snacks
If you don't want to pay for airport or airplane food prices, then be sure to bring some snacks with you. Security will let you bring through foods that aren't liquids, so you can pack everything from sandwiches and fruit to chips and nuts. Bring extra in case you want something to munch on while you wait in the boarding area.
PopCorners Pack of 12, $18.40
This post contains affiliate links and we may be compensated if you make a purchase after clicking on the links.