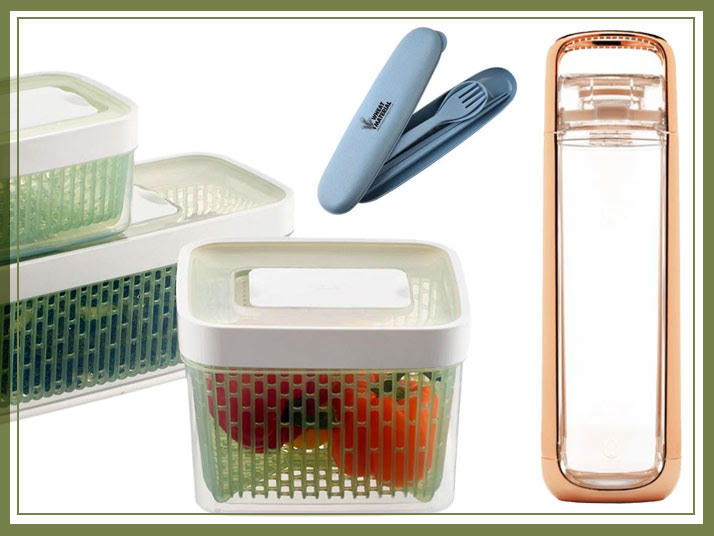 Lots of things are happening out there. From icebergs melting away to trash rapidly filling up our waters, it can all seem very overwhelming when we see the pictures, read the articles and watch the videos. What is it that we can do to make less of a footprint on the world around us? If you aren't ready to go all out and go off the grid, there are lots of smaller steps you can start taking today! Start today by trying one of these five steps and then if you care to, work your way up to more!
Reusable Utensils
It seems that almost everyone has watched the video with the straw in that poor turtle's nose. Even Starbucks is planning on getting rid of all of their plastic straws. Why not purchase some reusable straws, forks, spoons, and knives to carry around with you?
Pampered Chef's Metal Straws, $6.50
Gearbest Travel Flatware, $4.76
Water Bottles
Instead of buying bottles of water when you are out, get used to carrying your own water bottle with you. Purchase two or three of them, so that you always have one clean and readily available in the event you have to rush out the door.
KOR ONE Water Bottle, $30
Compost
Call your local sanitation department and see if they do compost pickups. Depending on the location, you may receive a large compost bin to keep outdoors and/or a starter compost bin to keep in the kitchen. It's a great way to use scraps for something useful and its great for the soil and reducing a carbon footprint.
The Container Store Compost Collector, $29.99
Transportation
When possible, try to carpool, ride your bike, take public transportation or walk. This will lessen the gas emissions that are being put out into the world. Plus, it's cheaper and if you choose the bike or walking route, it's great exercise.
Trek FX 2 Bike, $539.99
Proper Food Storage
Food waste is a BIG deal in the United States. Some of us can easily take for granted our access to so much food, but if you find yourself throwing a bunch away, you may want to either shop less or look into better food storage options. There are lots of produce, herb and fruit keeps out there that will not only prevent waste, but help you save money in the long run!
OXO Greensaver Produce Keepers, $12.99 each