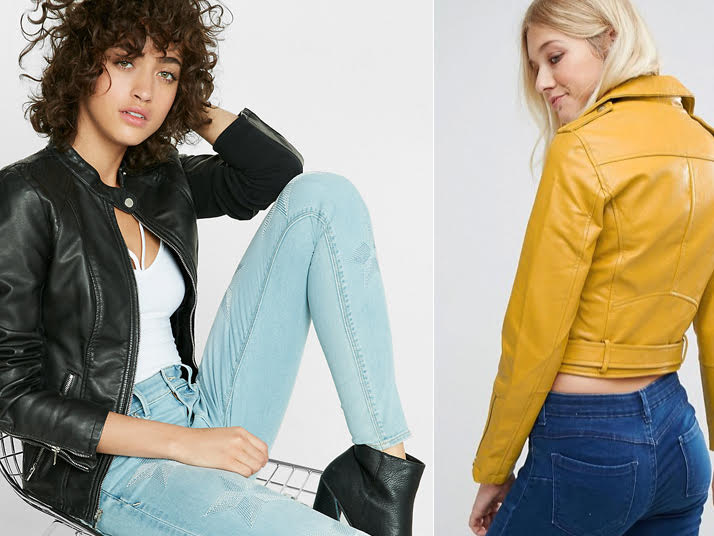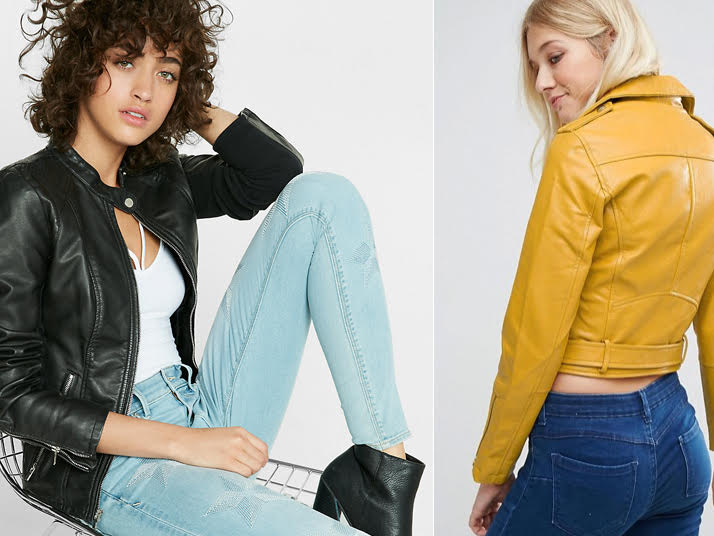 The chillier weather is here and if you love the look of a classic leather jacket, minus the leather, you have a plethora of options this season. Companies are getting the hint and going cruelty-free with lots of faux designs. Not only do they still look great, but the prices are so much cheaper than having to splurge on an animal-skin piece. These pieces will have you looking really stylish and will also keep you warm.
Bershka Faux Leather Biker Jacket, $72
You won't have to splurge to get a colorful leather piece in your closet! While people usually stick to blacks and browns when it comes to leather jackets in order to get the most wear out of them since the cost is so high, you can now add in faux one with a gorgeous hue to really pop.
Tip #1
Don't be scared of color! Pair this rich yellow color with other ones like pink and red to really stand out of the crowd.
(Minus The) Leather Double Peplum Jacket, Was $128, Now $77
We had to feature this one because the name is so cute! This is a classic, black jacket that will never go out of style. Pair it with everything from mini skirts to your favorite denim. It would also look great with all kinds of footwear and tops. How is that for versatile?
BLANKNYC Metallic Faux Leather Moto Jacket, $148
A metallic jacket is one of the fastest ways to dress up your look. What's great about this piece is that the rose gold color is dressy and can be worn for nights out for instant glam. We have a feeling that you are going to want to wear this everywhere.
Tip #2
Athleisure wear is so hot and popular right now. Trade in your gym outerwear for something sleeker like a faux leather jacket and your outfit will be changed up in a flash. No need to change your footwear. It will look great with sneakers!
AQUA Metallic Bomber Jacket, $88
This is not just a fashionable design to slip on, but it's under $100 too! The varsity design and the contrasting gold and green colors make it look extra special. There are also two side pockets with zip closures to stash belongings.