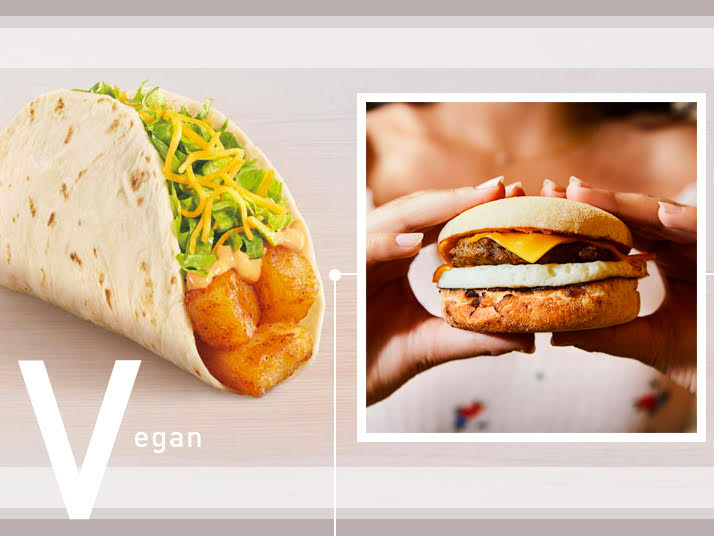 It's starting to feel like a whole new world for vegans in 2020! There are so many fast food shops that are offering vegan food options that taste delicious. Not only are these dishes great for vegans, but even meat-eaters will enjoy them! Just keep in mind that just because a fast food item is vegan, it doesn't mean it's healthy. Vegan fast food is still fast food. We just love that the option is available now for those who would like to partake. Hopefully, all of these items are available at one of your local eateries!
Dunkin' Beyond Sausage Sandwich
Beyond is now available at Dunkin'! If you just want to eat a meat-free sandwich, order it as is. If you want to go vegan, make sure to order it without egg and cheese.
Burger King Impossible Whopper
If you've been looking for a vegan burger that will really hit the spot, this one will definitely do that. To make it 100% vegan, order it without mayonnaise or cheese.
Taco Bell Spicy Potato Soft Taco
Packed with lots of flavors, just make sure to not order it with cheese or chipotle sauce to make it vegan. If you don't want it so plain, try adding on hot sauce, pico de gallo, or both.
Subway Beyond Meatball Marinara Sub
Talk about comfort food! Our mouth is just watering thinking about a meatball sub. And again, vegans should order this beauty without the cheese.
White Castle The Impossible Slider
With 11 grams of protein, you can get this tasty slider with or without cheese. We have a feeling you'll want to grab more than one!
This post contains affiliate links and we may be compensated if you make a purchase after clicking on the links.