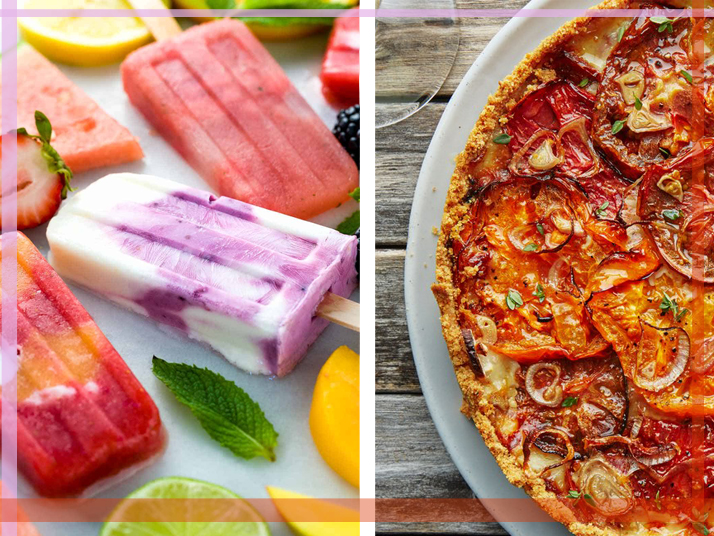 Sweet strawberries, flavorful cherries, juicy peaches, and so much more! Summer is the season to really embrace fruit at its peak. While nature's candy tastes fabulous on its own, there are a multitude of ways to enjoy them from using them to make easy ice pops or baking them in a mouthwatering cobbler. Try each of these recipes before the season is over!
If you've never had a tomato pie before, you are missing out! Tomato pie is chock full of fruity (yes, it is a fruit) and cheese goodness. You may not want to share any of it, it is that good.
Stay cool in the hot weather with flavors like peach-strawberry-yogurt, minty watermelon, and blackberry lemon. It's a great way to stay hydrated and get in a lot of vitamins. Homemade popsicles are great for kids since you can keep out any processed sugar.
Sally's Baking Addiction Peach Cobbler
There's something about a homemade cobbler that just screams love. Bring this out as an afternoon treat or after dinner dessert to share with friends and family. We love it topped with creamy ice cream.
Cooking Channel Roasted Fig Salad
Figs end up with a beautiful jam-like quality when roasted. Combine it with tangy goat cheese, salty prosciutto, and peppery arugula for an amazing dish. Serve it on a big platter for something very impressive looking.
The 350 Degree Oven Watermelon Slushie
This Taiwanese slushie is incredibly tasty, creamy, and satisfying. It's made simply with watermelon, milk, and sugar. Since it's so easy to make, we love this for serving larger groups.
Savory Sweet Life Blackberry Jam
Homemade jam is wonderful for having readily available in your pantry or giving out as gifts. Spread it over everything from buttered toast and crackers or use it to make grilled brie sandwiches.
BBC Good Food Apricot Cheesecake
When you are looking to make a statement, this is the dessert to do it with. This cheesecake is so lovely looking that you may even want to keep it out as a centerpiece.