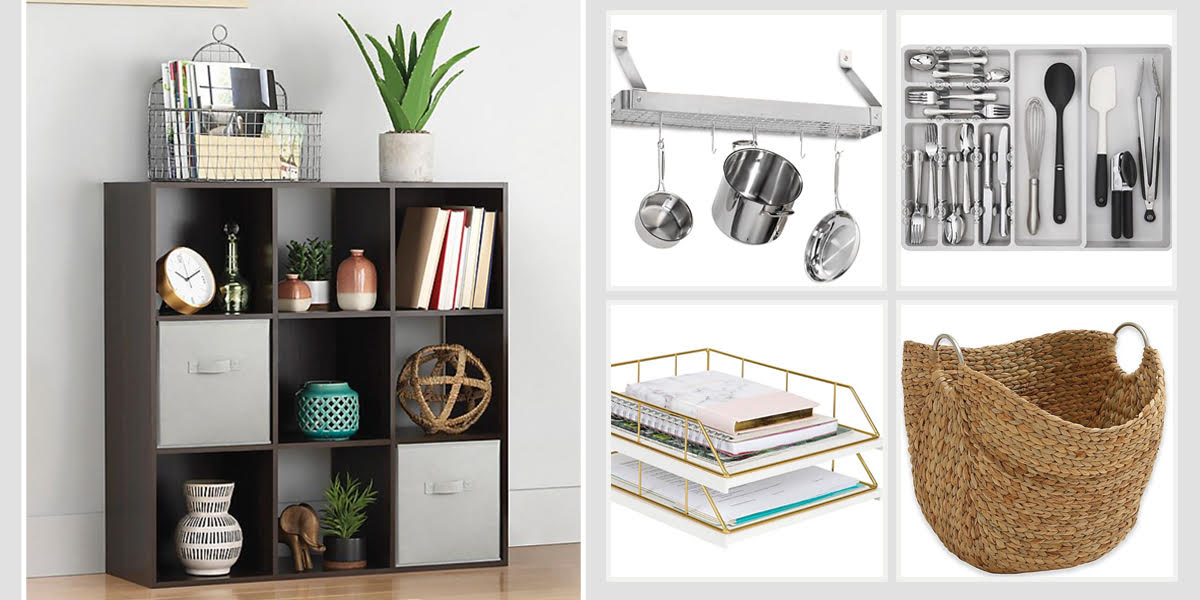 Do you ever feel like you're drowning in clutter or disorganization at home? We totally get where you are coming from. It's strange because everything probably started off neat, but then one day you woke up and realized that disarray has slowly snuck up on you. Because you might be spending more time at home due to Covid-19, this is the perfect time to get your living space in shape. Don't be surprised if having a cleaner and more organized home leads to a better mental state and a spike in productivity!
Check out some of our favorite finds available for purchase at Bed Bath & Beyond right now.
Kate and Laurel Stackable Letter Trays (set of 2), $49.99
Who said storage ideas have to be blah? These white and gold letter trays are gorgeous!
Ridge Road Seagrass Basket, $48.99
Beautiful baskets scattered here and there not only look stylish, but are a great way to stash everything from pillows to extra throws and blankets.
Relaxed Living Cube Organizer Collection, $44.99
There's a reason why this cubed shelving is a best seller at Bed Bath & Beyond. Use the cubes as is or insert a bin inside them when you don't want what's inside displayed.
Cuisinart Brushed Stainless Steel Pot Rack, $119.99
Sometimes you just have to look up to realize you have all this extra space. Attach this pot rack high up on one of your walls to hang pots and pans. Use the bookshelf to organize items like cookbooks and pot covers.
SALT Tiered Storage Cart, $39.99
We've seen rolling carts like this used for items like toiletries in a bathroom, to toys in a playroom. New moms have even used it to cart around their breast pump supplies from room to room.
OXO Good Grips Expandable Utensil Organizer, $25.99
Utensil organizers are such a lifesaver in the kitchen! Keep everything neat and orderly with this expandable version.
Kate and Laurel Floating Wall Shelves, $89.99
Floating wall shelves are a fantastic way to display knick-knacks, photos, and souvenirs by using a space you may not have otherwise.
iDesign Plastic Cabinet Organizer Collection, $24.99
Just looking at a messy pantry can give us a headache. Plus, we end up rebuying items that we already had. Use these organizers to keep everything visible and in their own place.
This post contains affiliate links and we may be compensated if you make a purchase after clicking on the links.