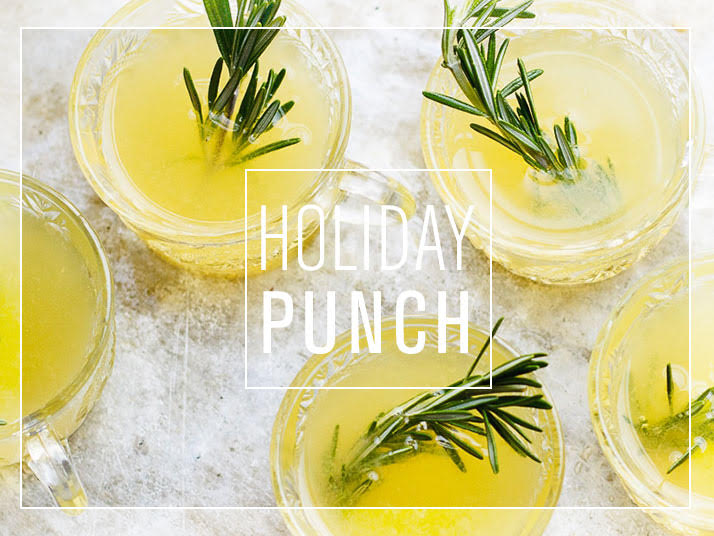 Add glamour to your next holiday get-together with a gorgeous bowl of punch for everyone to share. Not only do these concoctions look wonderfully festive and decorative, but a punch bowl will allow guests to serve themselves so that you have one less thing to worry about. This way, you can go ahead and enjoy the party as well!
Pro party tip: If you are serving a cold punch, there are multiple ways to keep the punch from getting watery. 1) Keep a bowl of ice cubes on the side for guests to help themselves too. 2) Place the bowl of punch into a bigger bowl filled with ice. 3) Create a large ice ring and place in the punch. While the ice will melt, it will melt considerably slower than if you were to use small ice cubes in the punch.
Real HouseMoms Spiced Pumpkin Punch
Pumpkin is one of those flavors that is tied so strongly to the fall season. This would be a tasty treat to serve at your next Thanksgiving dinner.
Food & Wine Champagne Holiday Punch
The pineapples and star anise look elegant when displayed in a clear punch bowl. The champagne is perfect for a party atmosphere.
Pottery Barn Afternoon Delight Recipe
Made with a clear corn whiskey base, this gorgeous drink is garnished with pretty cranberries and mint, a perfect pairing for the cold-weather season.
Stunning! The cranberry studded ice ring makes this punch a gorgeous centerpiece. The recipe calls for beer and bourbon, which is a very unique combination for a punch!
Bring a bit of the Caribbean into the cold-weather season with this rum recipe that also has pineapple juice, lime, and Prosecco.
With Food + Love Winter Champagne Punch
The rosemary honey-syrup and garnish won us over. It is a recipe that your guests will definitely be asking for!
Food & Wine Sparkling Pomegranate Punch
Pomegranate can be found everywhere now and it looks so pretty in this punch! Use it as an edible garnish for this bubbly drink.
This post contains affiliate links and we may be compensated if you make a purchase after clicking on the links.