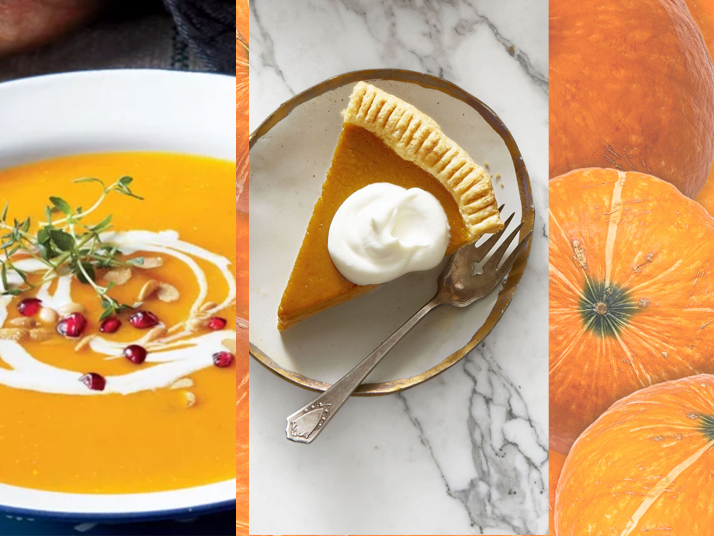 Do you find yourself craving pumpkin spice lattes starting in August? Then this is the post for you! From pumpkin spices to canned pumpkin, we've rounded up some delicious pumpkin recipes from the web. Make these for yourself, cook them up for a dinner party, or whip them up for any upcoming Thanksgiving potlucks that you might have.
Inspired Taste Pumpkin Spice Latte
We had to get this one out of the way first. For all of you pumpkin spice latte lovers out there, now you can make them in the convenience of your own home. It would be so cute served in a punch bowl at parties too. We definitely would not judge if you wanted to spike it up a little bit.
Bigger Bolder Baking Pumpkin Coffee Creamer
Want pumpkin in your coffee, but want it in a hurry? Give your morning coffee a splash of homemade coffee creamer. This recipe will keep in your fridge for up to a week. It's made with ingredients like pumpkin spice and condensed milk. We love anything with condensed milk.
Sally's Baking Addiction Pumpkin Scones
We love this blog so much! Bake up a batch of these and keep them in an airproof container to eat throughout the week. Scones are great for breakfast, brunch, or an afternoon snack.
Good Housekeeping Pumpkin Pie With Maple Whip
Made with heavy cream and maple syrup, this classic pumpkin pie will be a big hit. If you're short on time, it's totally fine if you prefer to use a store-bought crust instead of making your own.
We're big fans of moist pumpkin bread, but what makes it even tastier is spreading some cream cheese frosting on each slice. So here's a cream cheese frosting recipe too! Just beware, you'll want to keep eating it.
Our mouths are watering just looking at this picture! We love good pumpkin ravioli, especially when it's partnered with a fantastic brown butter sauce. The combination is fantastic and quite memorable.
Delish Pumpkin Cheesecake Recipe
Cheesecake gets a fall upgrade and we are not complaining. The crust is a delightful combination of graham crackers and gingersnaps. We'd say to make this and share with loved ones, but we would prefer to just hoard it for ourselves and just eat right off the platter with a fork.
My Recipes Roasted Pumpkin Soup
Not only can simple garnishes make this a stunning dish, but warm pumpkin soup is perfect for the chilly fall weather. Eat this soup up as a starter or a main.
This post contains affiliate links and we may be compensated if you make a purchase after clicking on the links.