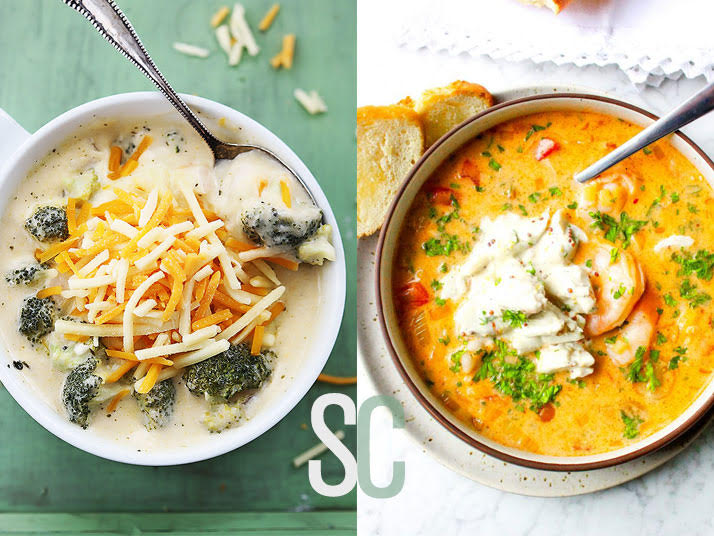 Sitting down with a warm, hearty, and flavorful bowl of soup or stew is a must for the cold weather season. There is just something so comforting about it. And while we typically post 'healthier' recipes on this blog, we thought that for this post, we would just write about any type of soup or stew that makes our mouths drool. After all, there is nothing wrong with eating something a bit more on a decadent side once in a while, as long as you eat better the majority of the time.
All of the recipes shown here are to be made in a slow cooker. We figured it would save you a lot of time at the stove so that you could go off and do other things. Plus, if you plan on hosting a holiday dinner or party, these soups are great because they serve a lot and you won't have to spend an exorbitant time making them.
The Slow Roasted Italian Slow Cooker Potato Soup
From the Yukon potatoes to the diced bacon, this recipe is on point! We love their tip on omitting the bacon and swapping the chicken broth to a vegetable broth to make it vegetarian.
Cooking Classy Slow Cooker Beef Stew
Slow cooking the beef makes it incredibly tender. We especially love how Cooking Classy's gorgeous presentation makes this simple dish look so elegant and sophisticated.
Damn Delicious French Onion Soup
One of our favorite soups to eat, period. This French onion soup is made in the slow cooker which means you don't have to slave over the stove caramelizing the onions. #Winning
Crème de la Crumb Cheese and Broccoli Soup
O.K. So one of the main reasons we love this soup is because it has broccoli in it. It makes us feel a bit less guilty that we are otherwise just eating a cheese soup. So creamy!
Dal is a classic dish in Indian cuisine and Indian food is something that we are slightly scared to make because we never want to mess it up. Why have we never thought to make it in a slow cooker before?!?
Made with succulent shrimp, jumbo lump crab, and a ton of other wonderful ingredients, this is the dish to make when you really want to impress.
Platings and Pairings Thai Chicken Noodle Soup
Thai soups are one of our favorite things to eat when we are feeling under the weather. The perfectly paired combination of flavors allows us to still taste when we are sick and somehow manage to clear us up as well.
Food Network Slow Cooker Chicken Noodle Soup
We had to include a chicken soup recipe in this post! It's one of the most traditional soups that is a must for the winter season.
This post contains affiliate links and we may be compensated if you make a purchase after clicking on the links.