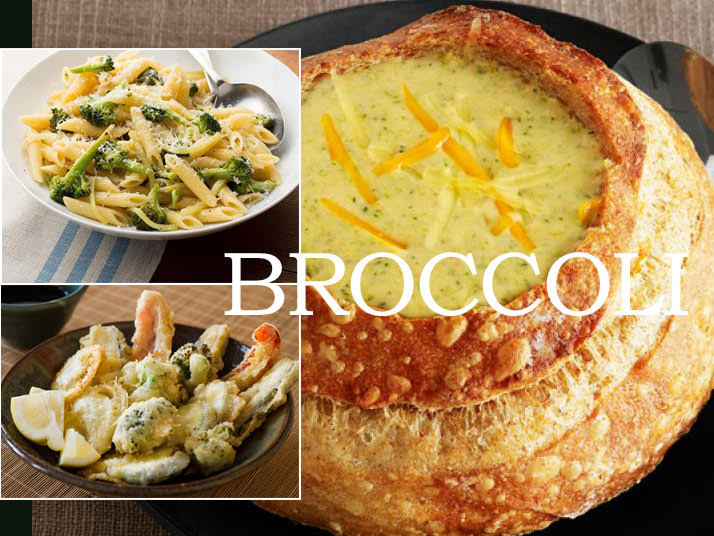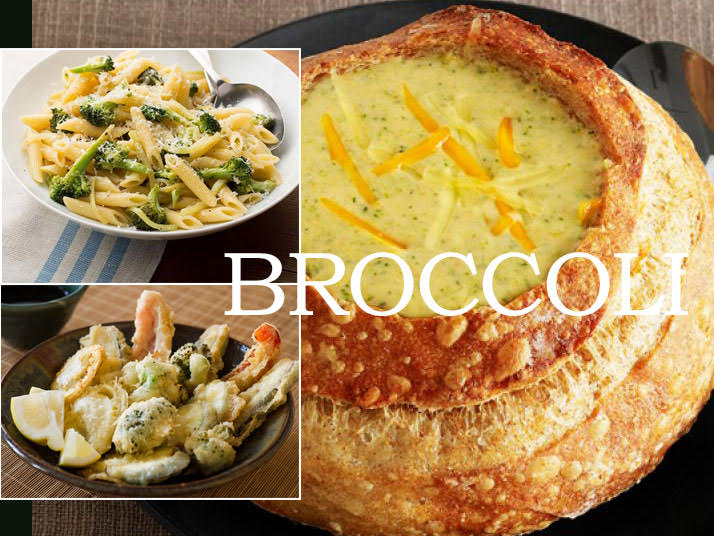 What the what? Why in the world are we writing about 10 different ways to eat broccoli? Because it's crazy good for you and it's delicious. And if you don't think that it's delicious, it's probably how you have been eating this cruciferous veggie. If cooked poorly, we agree, broccoli can be an icky and mushy mess. However, if you steam it or roast it just right, you have a winning masterpiece on your plate.
See 10 ways to eat up broccoli all year round. We're sure that it will even inspire you to have some dinner guests over!
Broccoli Tips:
Stay away from yellowing broccoli, as that means it's just getting old.
Look for vibrant green broccoli with tight buds.
Short on time? Get pre-washed, cut broccoli and cook it up immediately.
1.
Yes, we know. This recipe looks incredibly easy to make, but sometimes simple is better, right? Roasted broccoli makes the perfect side to all types of mains and can be tossed into pasta dishes for wonderful charred flavor.
2.
With everything from bacon to cranberries, you'll get wonderful bursts of sweet and salty with every bite you take. It would make a great dish for a potluck or to bring to a BBQ.
3.
Food Network Garlic Oil Pasta with Broccoli
With hints of crushed red pepper and parmesan cheese, the entire combination of this dish is addicting. We wouldn't be surprised if it became one of your go-to recipes.
4.
Food Network Almost Famous Broccoli-Cheddar Soup
OK, OK. This may not be the healthiest of dishes, but it's OK to indulge once in a while. You can serve it in a normal bowl, but doesn't it look so pretty in one made of bread?
5.
Smitten Kitchen Broccoli Melts
Eat this all up yourself as a meal or serve it at parties and book clubs for something that is satisfying and easy to nosh on.
6.
Smitten Kitchen Sweet Potato and Broccoli Bowl
Rice bowls are hearty and chock full of nutrition. You can make it really fancy by changing up what types of grains you use.
7.
Serious Eats Chinese-American Beef and Broccoli
A classic dish in Chinese-American restaurants that you can try making yourself! Serve it with a side of rice or noodles for a complete meal.
8.
Serious Eats Vegan Quinoa, Broccoli, and Kale Curry
Packed with so much nutrition from the greens and quinoa, you definitely won't feel guilty when you chow down on a bowl or two or three of this!
9.
The Kitchn Sweet and Spicy Broccoli
Bring sweet heat to the table with this lovely vegetable dish. It has a crunchy nut topping for even more texture.
10.
The New York Times Vegetable Tempura
You can use any vegetable for this recipe, making it quite versatile. If using broccoli, make sure to cook up the whole head because broccoli tempura is just that good!