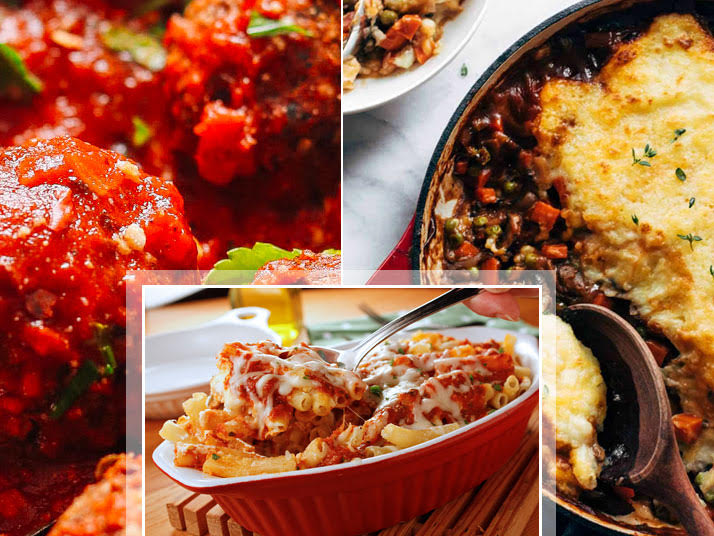 It is getting colder a lot faster than we anticipated. With the temps dropping so fast, we just want to tuck into a meal that is hot and filling. A roster of hearty meals is exactly what we need to stay fueled and warm during the colder months. Check out these recipes that are perfect for now and the upcoming winter season.
We love a great ziti. Plus, we love the leftovers too! This ziti is chock full of cheesy goodness that will have you eating up seconds in a jiffy.
Pinch of Yum Vegetarian Shepherd's Pie
With flavorful mushrooms, carrots, and gravy, you won't miss the meat in this delicious shepherd's pie. It has a classic mashed potato topping that is wonderfully mouthwatering.
Gimme Some Oven Vegetarian Chili
Start this up on your stovetop, Instant Pot, or Crock-Pot for a crowd-pleasing meal. Loaded with both kidney beans and lentils, not only will this fill you up, but you're going to get in lots of protein. Top it off with everything from cheese and sour cream to tortilla chips and green onion.
Straight Up Food Beefless Stew
It's one of Straight Up Food's most popular recipes, and we can see why. This beefless stew is full of big chunks of potato that won't have you missing the meat at all!
Just One Cookbook Vegetarian Ramen
Heading out to a fantastic Japanese ramen bar may not always be an option, which is why making your own at home is always a great option. This recipe uses soy milk in the broth to create a rich and creamy base.
Minimalist Baker Vegan Meatballs
Spaghetti and meatballs is one of those classic dishes that never go out of style. Make these fantastic meatballs to serve atop a big plate of pasta. You could even save some to make a vegan meatball sub.
This post contains affiliate links and we may be compensated if you make a purchase after clicking on the links.