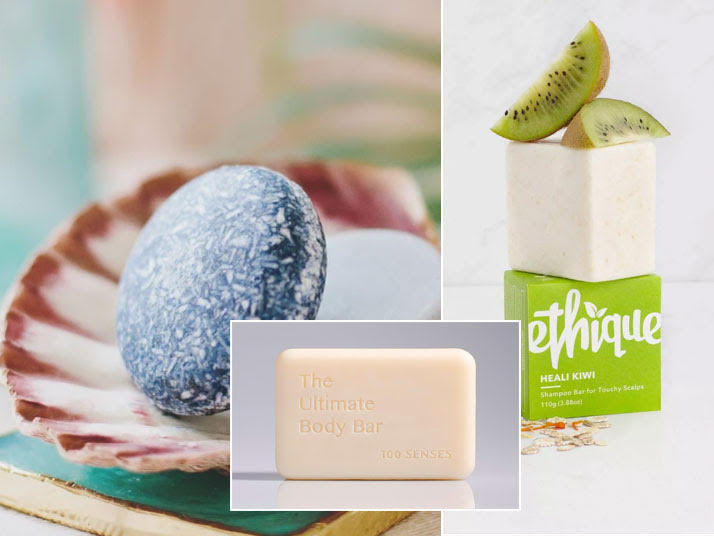 Are you thinking about making the switch to a bar shampoo or conditioner? Or maybe you've gone to the bar side already, but are interested in branching out? There are great options out there for you to check out. Whether you want something fragrant and volumizing or scent-free and simple, there is an exact match for you out there.
Are you wondering why people are becoming more interested in bar shampoos and conditioners these days? It's because there is no plastic packaging when you purchase a bar soap, which means less plastic trash gets put out into the world. Switching to a bar shampoo or soap is a great way to lessen your carbon footprint on the world and you won't have to sacrifice your tresses to do so!
Lush Seanik Shampoo, $11.95
This colorful soap is so pretty to look at! It's packed with seaweed to soften hair and lemon oil for extra shine.
Lush Godiva Bar Shampoo, $12.95
If you love jasmine, then this is a must for you. The sexy fragrance will linger in your hair for a come-hither effect.
Unwrapped Life Cancun Shampoo & Conditioner, $30
You'll feel like you're on vacation when you lather away with this coconut and lime margarita set.
Save the Waves Fresh & Clean Bars, $10
Get your hair squeaky clean and soft without any harsh chemicals. These bars have hints of oak, lime, and almond.
Ethique Heali Kiwi Shampoo Bar, $16
For those with scalp problems, this shampoo bar will help you ease issues. It's also safe for color-treated hair.
Ethique Wonderbar Conditioner, $18
You can call us basic, but we don't care because we pretty much love anything that has coconut oil in it.
100 Senses The Ultimate Body Bar, $27
This ultimate body bar can be used for your hair, body, and shaving. You're going to free up a lot of space by your tub!
This post contains affiliate links and we may be compensated if you make a purchase after clicking on the links.