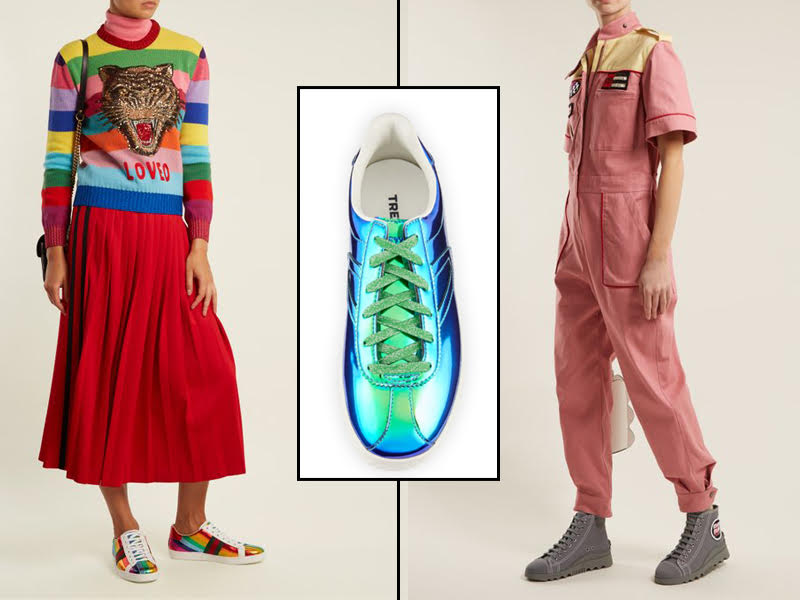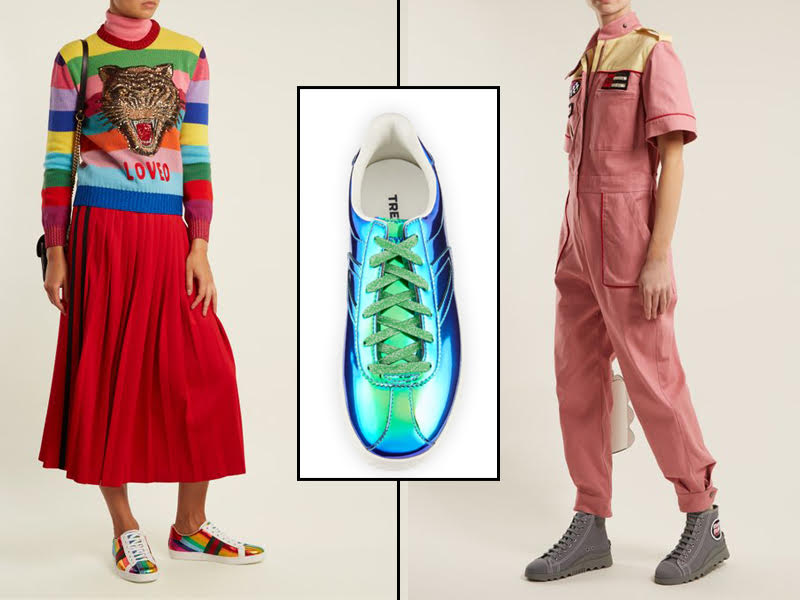 Athleisure wear seems to get more popular, year after year, and we are not complaining. Comfort and fashion combine in this hot category and we think it is something that every woman should take advantage of. Keep in mind that these designs don't have to only be paired with athleisure wear looks. They will look just as stylish when worn with everything from sweatpants and denim to dresses and skirts.
Step out of the box with these chic trainers.
Golden Goose Deluxe Brand, $495
These metallic sneakers have a distressed look to them that looks effortless and too-cool-for-school. It features the brand's signature star and will pair easily with all other colors.
Gucci New Ace Rainbow Trainers, $620
Give your look a shiny glow and Rainbow Bright hues with these vibrant sneakers. The rich leather is nice and supple. They will make a major impact when you slip them on.
Givenchy Printed Canvas Sneakers, $495
Made from durable, black canvas, these bold sneakers were inspired by boxing boots and are great for everyday wear. The bold white lettering is striking and luxurious.
Balenciaga Race Runner Sneakers, $695
The silhouette of the Race Runners make them a fashion favorite. Made in Italy, these sleek shoes have been crafted from leather, suede and neoprene. The sole is bouncy for extra comfort.
Dolce & Gabbana Portofino Patch Sneakers, $710
The embroidered DG sequin heart is just the sweetest thing. We also think that the blue heel back gives an extra something special to the overall design.
Christian Louboutin Vieira Spikes Sneaker, $895
We can never say 'no' to Louboutin shoes. These spectacular sneakers are no exception. The spikes give it a touch of 'oomph' while the mixed media trim is unique.
Gucci Ace Saturn Glitter Sneakers, $730
Gucci has been exceeding our expectations each season. These interstellar sneakers have silver glitter and Gucci name branded on the back of each shoe.
Marc Jacobs Grand Chain Platform Sneakers, $383
Add some height to your body with these 2-inch platform sneakers. Made from rich suede, they have a chain design on each side.