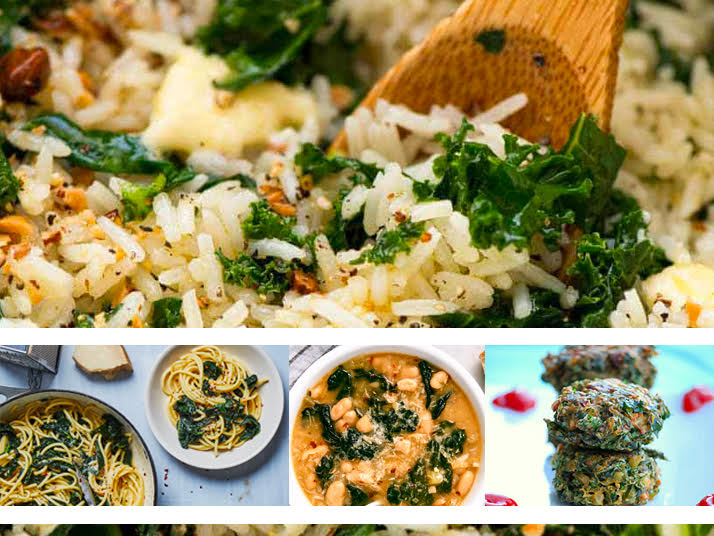 Chilly days are coming around hardcore and if you want to keep eating fresh produce, kale is a great way to go. Considered to be a superfood, it packs a punch when it comes to giving your body nutrients, fiber, and antioxidants. This hardy vegetable will be around through the cold weather, so you'll be able to get a lot of use out of these recipes.
Bon Appétit Kale and Ricotta Grandma Pie
How can you say 'no' to pizza? This ricotta and kale pie topped with crushed red pepper flakes looks divine. Just be sure to massage the kale beforehand as the recipe calls for.
Tossed with delicious parmesan, golden raisins, and dressing, you'll love eating this kale salad as a main or as a side. It's so simple but so flavorful.
You can't have a kale round-up without having a kale chip recipe. Always make a big batch of them because they will go fast!
Perfect for the cold weather, this soup is full of goodness and warmth. It's great for scooping into a bowl, curling up on the couch with, and vegging out to Netflix.
Bon Appetit Spaghetti Aglio e Olio With Kale
Sometimes it's the simple kinds of pasta that taste the best. This is a great recipe for those nights where you need to get dinner on the table in a jiffy. Make sure to make extra to pack leftovers for the next day.
Cooking With Thas Kale Fritters
Packed with a ton of flavor, you'll be able to eat these fritters alone, in a sandwich, or in a wrap. If you eat them immediately, you'll be able to enjoy a fresh crunch.
Recipe Tin Eats Garlic Butter Rice With Kale
Garlic butter tastes fantastic and we have a feeling will win over any kale haters out there. If you want, you could even add chicken, beef, or tofu to this dish.