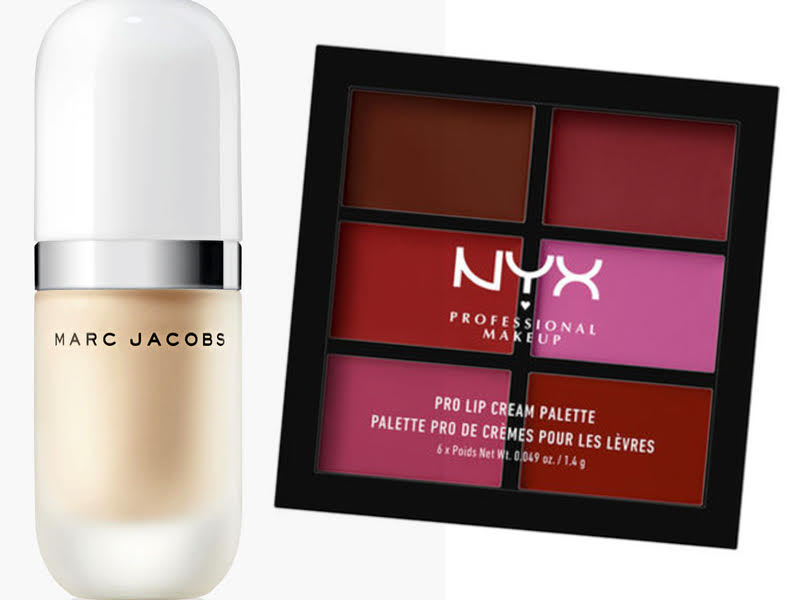 You may have been focusing a lot on your holiday party outfits, but don't forget about your face! After all, you want your makeup look to match how dressy your clothing is. Start off with a beautiful base and then give your eyes, lips, brows, and cheeks the royal treatment. Dazzle everyone around you with deep or glossy lips, defined brows, high cheekbones, and standout eyes. During this time of year, many beauty brands come out with a variety of palettes that are extremely versatile and contain a so many colors that you can use to change up your look whenever you want to.
Scroll down to see some products you will love using right now. All items shown are free of animal testing and not sold in China.
Charlotte Tilbury Magic Foundation, $44
This full coverage foundation contains SPF15 and was created by celebrity makeup artist, Charlotte Tilbury. Make sure to use a Beauty Blender or a foundation brush to get smooth and flawless coverage.
Marc Jacobs Beauty Dew Drops Highlighter $44
'Tis the season for some good highlight. What we love about this one is that it is a universal hue that great for all skin tones and can be used day or night. Mix it into your foundation for an allover glow. If you don't plan on wearing foundation, you can mix it into your moisturizer or just highlight the highest points of your face with it.
e.l.f. Radiant Gel Lip Stain, $4
If you plan on eating or drinking a lot at an event, a lip stain is a great way to go. This way you won't have to worry about reapplying your lipstick or gloss all night. You can just go about looking fabulous!
Anastasia Beverly Hills Prism Eye Shadow Palette, $42
A versatile palette like this is fantastic for creating everything from a rich smokey eye to something sparkling and glam. Layer on shadows, dab into corners, and use to create dimension for so many different looks.
NYX Pro Lip Cream Palette, $12
What a fabulous palette! For a great price you get six, pigmented colors that are extremely wearable. You can wear them alone or blend them together to create your own unique combos.
Glossier Lip Gloss, $14
Wear this alone or layer it over a lip liner. This Glossier lip gloss will have your lips looking plump, juicy and luscious. We highly suggest keeping it in your bag at all times.
Anastasia Beverly Hills DIPBROW Pomade, $18
When you want really defined brows with serious staying power, this DIPBROW is the way to go. Be sure to check out the how-to video on how to apply it so that you don't go overboard with the color though! And don't forget, the spoolie is your best friend when it comes to great brows.
The brush on this liner is incredibly easy to use. You get super precision when using this whether you want to create thin or thick lines. This is a great product to change up your look in an instant.