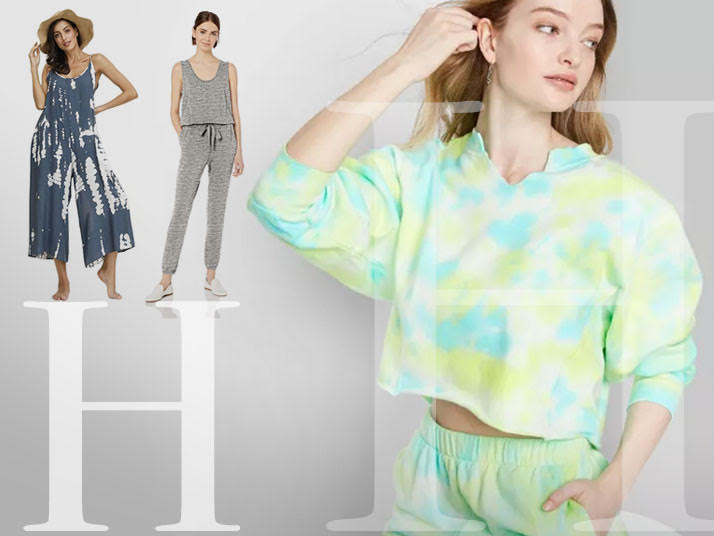 We get it. It's so easy to just roll out of bed, start up our laptops, and begin our workday without having to get ready to see anyone. And while we enjoy the convenience of not having to get dressed, do our hair, or makeup, there are times where we glance into the mirror and think, "AHHH!" That's why, Monday through Friday, we've made a commitment to change out of our pajamas. We're not getting full on dressed like we would for an office, but we are changing our outfits to feel a bit more stylish, while staying as comfortable as possible still.
Shop through some of our work from home outfit picks, available for purchase online right now!
Everlane The Long Weekend Tee Dress, $40
Simple and chic, this sleeveless tee dress is lightweight and will move with your body's movements whether sitting at a desk or lounging in bed.
The Marc Jacobs Cat Top & Bottoms, $295 & $225
Your athleisure wear game is going to be on point with this matching sweatshirt and pant set.
Stars Above Floral Pajama Set, $29.99
How cute is this pajama set? Plus, you still get to wear pajamas while you work. Just really stylish ones.
Wild Fable Tie-Dye Sweatshirt, $22
Brighten up your day with this brilliant and cozy top. The bright colors will give your mood a boost.
This basic jumpsuit is a must-have for your closet. You'll love how put together you feel when you slip into it.
Everlane The Cotton Shirtdress, $80
Step up your game for those video conference calls with this no-nonsense shirtdress.
Buenos Ninos Boho Jumpsuit, $22.99
Bring some beachy vibes into your home with this loose jumpsuit. We wouldn't be surprised if you wanted to purchase it in different prints.
Tory Sport Cotton Terry Mélange Sweatpants, $138
Made with extremely soft cotton, you'll want to purchase multiples of these sweatpants that come from a line Oprah has raved about.