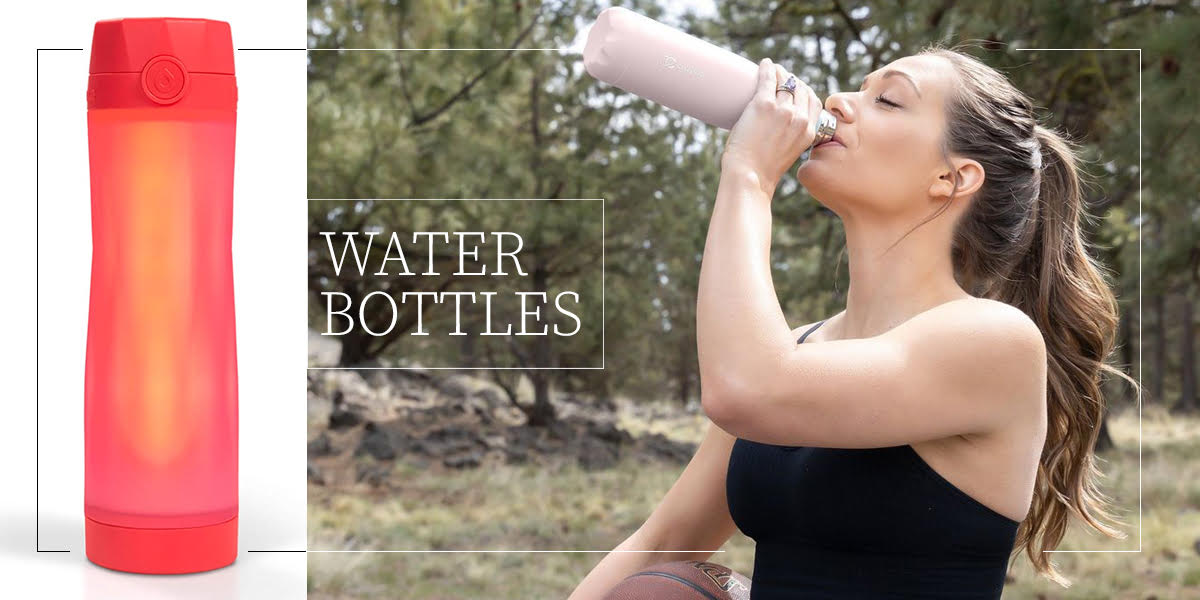 Staying hydrated is essential for year-round health, but it's especially important in the summer months. Our bodies need a LOT of water to function correctly, so it's not really practical or sustainable to constantly drink from single-use plastic bottles.
I'm pretty picky when it comes to a reusable water bottle. It needs to be easy to clean, convenient to carry and drink from, big enough to hold plenty of water, sweatproof, and leakproof. Oh, and it has to be pretty (of course).
Believe it or not, there are lots of bottles that fit my admittedly long list of needs, and they make my water taste great too! Today, I'm going to share my shortlist of top contenders so that you can find your own perfect reusable bottle.
CrazyCap
CrazyCap 2 XL, $111.99
The big selling point for CrazyCap bottles is that they're self-cleaning. Pretty impressive, right? Like the Larq, it uses UV-C light to purify the water inside and keep your bottle germ-free. All you have to do is tap the cap twice to start a quick cleaning cycle, or you can leave it to activate automatically every four hours for a constant purification cycle.
It comes in a range of beautiful colors, and you can add accessories like a silicone boot to stop condensation rings or a carabiner clip for easy carrying. You can even personalize the bottle when you order from their website!
If purification and cleanliness are your big needs for a reusable bottle, CrazyCap is what you want.
Owala
Owala FreeSip Insulated Stainless Steel Water Bottle, $29.99
The Owala FreeSip is my favorite everyday bottle. The 32-ounce size is still sleek and convenient to carry, and the textured matte finish of the outside of the bottle feels and looks very chic.
I love the FreeSip because it gives you the "chug" option AND the "straw sip" option simultaneously. The straw is easy to clean, and the double-lock lid means I don't have to worry about surprise leaks.
I know that some people worry about a metallic taste when using stainless steel bottles (I've definitely experienced that before), but Owala bottles don't have that issue. My water always tastes fresh and clean. I also love that these bottles keep water cold for hours and never get condensation on the outside!
If you're looking for a pretty, reliable, and budget-friendly bottle, Owala is it.
Hidrate Spark
Hidrate Spark 3 Smart Water Bottle, $59.95
By far, Hidrate Spark is the most fun water bottle in the roundup. If you like the idea of a reusable bottle that tracks your water intake but hate the thought of getting a bottle with motivational messages printed on it, this is the solution.
The Hidrate Spark series features fun LED light smart sensors that will glow to remind you to drink throughout the day, and they track your water intake via Bluetooth connection to the free HidrateSpark app.
You get to choose the bottle color, lid style, and glow patterns, and you can even sync up with friends and family who also have a Spark bottle to encourage each other to stay hydrated. The light sensor uses a replaceable battery, so you don't have to worry about charging.
The Hidrate Spark comes in a stainless steel option that only glows on the bottom or a BPA-free plastic option that features a full-bottle glow. The plastic version also has a matte silicone covering that minimizes condensation.
If fun and aesthetics are the most important factors for you, or if you need regular reminders to drink more water, I highly recommend a Hidrate Spark!
There are lots of other gorgeous, innovative, and interesting reusable water bottles on the market. If you have a favorite that I didn't mention, drop it in the comments! I'm always in the market for one more reusable bottle for my collection.