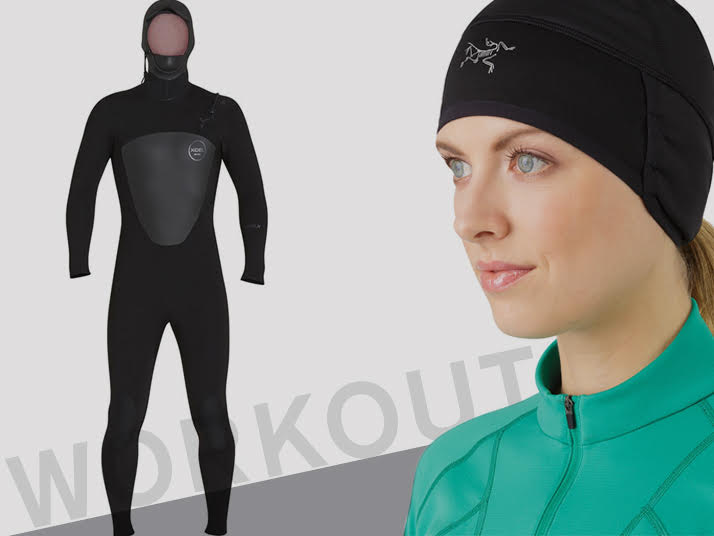 The temps are dropping, but don't let that deter you from getting fit outdoors! Activewear companies are utilizing new fabrics and technologies in their designs to create clothing that is lightweight and that will move with the way that you move. So whether you want to tackle hiking that trail or surf in the freezing water (yes, people do surf in the fall!) check out these products that will help you stay toasty while you burn calories and keep fit!
Fight the wind and migraines with this wind-resistant hat. It's designed especially for the cold weather. The headband will cover your earlobes and there is a back slot that you can slip your ponytail through. There is even a side port to hold onto sunglasses.
XCEL 5/4 Axis Front Zip Hooded Wetsuit, $249.95
Hardcore surfers care more about the waves than they do being wet in the cold. This hooded wetsuit will help with temperatures as low as 45 degrees.
Under Armour Storm Run Liner Glove, $30
In addition to repelling rain and snow, these gloves are touchscreen compatible so you can seamlessly change music, answer a call, and more. There is even a nose wipe on the back. Seems like Under Armour has thought of everything!
Brooks LSD Jacket, $85
This running jacket is quite the functional piece. It is a very light piece that can be folded down to barely take up any space. It's been made with UPF 30 to protect you from the sun as well.
Lululemon Toasty Tech Tight II, $118
Look extra lean while staying warm in these brushed tights. It is made with sweat-wicking tech fleece, has a zippered pocket and won't chafe your skin.
This post contains affiliate links and we may be compensated if you make a purchase after clicking on the links.